This fact will shock and amaze some readers, but from 1990 through 2001, or thereabouts, I edited a monthly FOSSILS homebrewing club newsletter called "Walking the Dog," so named from the purported English male custom of tending to his canine's critical exercise needs as a pretext for visiting the pub and having one pint of elixir, maybe two.
During this entire 12-year period coinciding with the advent and growth of the Public House, "Walking the Dog" was produced with a photocopier, paper, staples and STAMPS (pub regulars received theirs along with the daily tipple). When it became apparent that a majority of the members had e-mail, we went electronic, a move I've never regretted, not even once.
As with putting up hay the old fashioned-way, one bale at a time on the hottest day of the year just before a thunderstorm, it's something I vowed not to do, ever again.
The point is that "Walking the Dog" began as a simple single-sheet meeting reminder that ballooned into a six-page (or more) monthly collection of beer writing, much of it mine but with quite a few contributions from others over the years.
Looking back, the experience reminds me that in the beginning, I was only barely aware of what beer writing was. It likewise informs me that writing about beer, and having my beer writing perused by folks of like-minded interest, was important enough to me that I tolerated the drudgery of producing it. One writes to be read. Consequently, I kept doing it.
If memory serves, the digital version of "Walking the Dog" was called "The Not Dog," and it would seem to have kept me occupied during the period 2001 – 2005, although I can't recall when I finally gave it up. Perhaps my involvement ceased around 2003, when NABC had started brewing and available time was becoming an issue.
From 2005 through 2016 was the effective life span of my beer blog, The Potable Curmudgeon, which more often than not dealt with New Albanian Brewing Company news because we were too disorganized to do it at a web site of our own. Concurrently from 2005 – 2008 came a weekly blog called Publicanista! It functioned as a newsletter for NABC, intended to separate the business from the opinionated writer.
I still love the title. However, distinguishing between business and publican never seemed effective in practice. Synonymity? It's a real word.
After my departure from NABC, an aggravating three-year-long negotiation that began in 2015, the beer chat shifted entirely to NA Confidential, where it went from "Potable Curmudgeon" to "After the Fire," back to "The PC" and eventually "Beer with a Socialist" (the title is a joke deriving from a hurried misreading one morning of AtG's "Beer with a Scientist" promotion).
In addition, for roughly a year (2009 – 2010) I wrote a column in LEO called "Mug Shots," until the publication's then-editor tired of me ritually bashing Budweiser — which spent lots of money on advertisements. Life lessons are hard, especially when swill wins. There also was the relatively short-lived Louisville Beer Dot Com web site, where I did a column by the "Potable Curmudgeon" moniker circa 2011 – 2012, maybe 2013.
At least I think so. They all mix together after a while.
The preceding is a ludicrously lengthy prelude to an announcement that isn't to be described as earth-shattering, but matters to me. I've been contributing beer columns to Food & Dining Magazine since its second year of operation, somewhere around 2005. In the beginning the columns were not given a title. Eventually the magazine's founder and publisher John White chose "Hip Hops" to identify them.
Given my throwback proclivities of late, "hip" strikes me as deliciously ironic in tone and I intend to keep it.
Last July came the opportunity to serve as F&D's digital editor, a glorified way of describing the task of writing, editing and organizing the web site's face to the world.
And now … drum roll please … yet another weekly format for my fermentable musings.
I hope you enjoy them. Henceforth I'll be signposting F&D, not reprinting the contents here. In fact, at this moment, I'm not sure what "here" even means, or "there," and it's not just pandemic uncertainties speaking.
Reinventions come and go, as they must, and the gist that remains is beer. I'll keep commenting about beer. Even better, I'll keep drinking it.
—
Hip Hops: Introducing weekly scribblings about beer and brewing
For more than a decade, "Hip Hops" has been the title of my column for the quarterly print-edition of Food & Dining Magazine. Now it will be deployed on a weekly basis here at the web site to signal Monday afternoon posts about beer: news and notes, events, ruminations and probably a beer travelogue here and there.
Ironically, as the 40th anniversary of my involvement in various sectors of the beer business draws alarmingly closer (2022), "hip" in terms of the avant garde isn't exactly the way I always feel, especially as the word pertains to aching knees and a sagging jowl.
It remains that beer is my life's work. All of my interests collide while savoring a lovingly rendered pint: history, sociology, geography, pub architecture and just the sheer cultural depth of it. Is there a word for this obsession?
Some people call me a beer "expert," although being painfully aware of how much I don't know about the topic would seem to preclude it. "Geek" is too techno-adolescent and "snob" is a nasty pejorative. "Connoisseur" and "aficionado" both strike me as pretentious, and Jerry Seinfeld's "soup Nazi" didn't improve a horrible and objectionable word that should not be used in any context, let alone one pertaining to a beer drinker.
Hence I'm left with simplicity: "I'm a professional beer drinker, and here are a few local beer news items of potential interest to you."
On May 1, three huge components of the Indianapolis beer scene departed all at once: Nuvo, the independent weekly newspaper where my friend Rita Kohn has written for many years about the confluence of beer and society; Brugge Brasserie, since 2005 a Belgian-themed brewery and eatery in Broad Ripple; and the Indiana Microbrewers Festival, which was postponed until a projected return in 2021.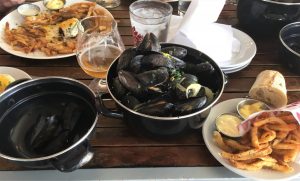 Best future wishes to all the folks involved with these entities. These are tumultuous times for craft beer in America, as noted by the New York Times:
Demand for draft beer dried up, and Bauhaus (Brew Labs, Minneapolis) kegs and cans filled its distributor's warehouse, with no need for new inventory. On April 21, in a scene reminiscent of Prohibition, the brewery decided to send more than 900 gallons of perfectly good beer down the drain. For Bauhaus and other craft breweries, kegging or canning beer that can't be sold would be a wasted expense. And the beer is quickly approaching the dates set for peak freshness and quality, which then start to decline.
To my knowledge such a scene hasn't been witnessed in metropolitan Louisville, at least yet. In fact, there's an opening to report. Gallant Fox Brewing in Clifton is open for to-go beer sales.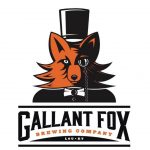 "We will be open Thursday through Saturday each week from 12-6pm until things return to normal," according to the brewery's Facebook page. "We will post more permanent hours for our taproom at that time."
Louisville Business First has been chasing local stories about the Small Business Administration's Economic Injury Disaster Loans (EIDL) and Paycheck Protection Program (PPP) funding, and reporter Haley Cawthon learned that Against the Grain Brewery, Goodwood Brewing, Gravely Brewing Co. and Monnik Beer Co. all were approved for PPP loans. The breweries are pursuing different strategies to make use of these loans.
"I do wish there was a little more leeway for businesses in the use of the funds, because it's really hard to make a blanket statement and say, 'This applies to every business,'" Gravely's founder Nathan Gravely told Cawthon. "Obviously, every payroll and lease structure are all so different from business to business and it's hard to say 'Oh here's this one thing — everybody do it.'"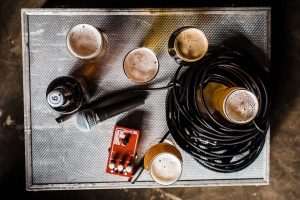 Personalized improvisation is the watchword of Beer 2020. Mile Wide Beer Company announced its forthcoming Owensboro location back in February, then the pandemic put these best-laid plans on temporary hold, as with the new Monnik facility in New Albany. But Mile Wide's brain trust has found a way to keep their expectant Owensboro fans supplied in the interim.
Owing to COVID-19, it isn't entirely clear when Louisville City FC fans will be able to celebrate in person the advent of their new Lynn Family Stadium. However Falls City Beer has collaborated with the team and the playing field to produce a drinkable commemoration "in limited-edition cans that feature images of the 11,700-seat stadium."
It's a Kölsch-style beer in the fashion of straw-gold ale made famous by brewers in the German city of Köln (Cologne), coming in at 5% ABV and 18 IBU (or, squarely in the range of mass-produced American lagers).
"With the excitement of the stadium opening this year, we decided it was time for a new beer in our collaboration with Lou City FC," said Falls City Brewing Co. General Manager Drew Johnson. "Our new Lou City Kolsch is a crisp, easy-drinking beer that will be perfect all season long."
This week's cover photo is from the brewhouse of the Pivovar (brewery) Eggenberg in the lovely Bohemian town of Český Krumlov (Czech Republic), as snapped during a visit in 2004.